Ace Tarot Coins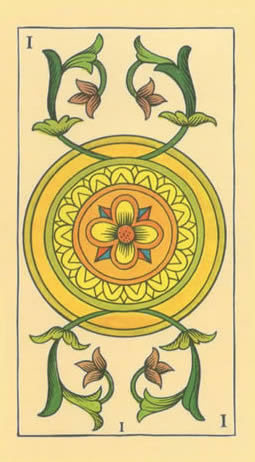 Meaning of the Ace of coins in the Tarot
What does the ace of coins tarot mean?
We have to admit, we all like the Ace of coins. Maybe for number 1; perhaps by the power of gold; perhaps because they are coins and represent money; but all of that added together, we know, is exceptional. Various card games is always (or usually is) the most important card to win.
As far as work is concerned, the ace of coins in the tarot represents a time when all the work has been done in an amazing way, giving very powerful results >. That means you will see many rewards for your great work done. Luck will be on your side so your economy will improve substantially. In the field of love we will also be successful; since we will be in a moment of perfect emotional stability.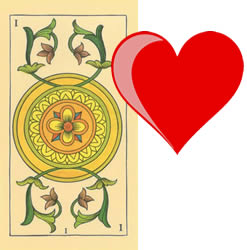 Ace of coins Love Tarot
Emotional stability with your partner stands out everywhere. A balance where it will make couples enjoy their best moments.
Ace represents new beginnings, and in this case you could start a totally pure and romantic new relationship; or if you already had a partner, you can revive again that passion that you lost one day.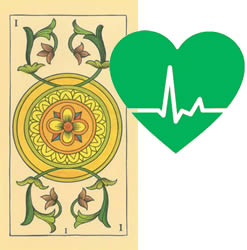 Ace of coins Tarot on Health
When it comes to health, the ace of coins tarot sends us some messages. If in the past you were unwell taking any medication and you did not finish the treatment, it is good to make you finish said treatment. You are in splendid condition with a lot of spirit to do high-effort sports without worries. If you have not tried meditation and you have accumulated stress, it would be good if you practice it for a while.
In short, you are full of positive energy both physically and mentally.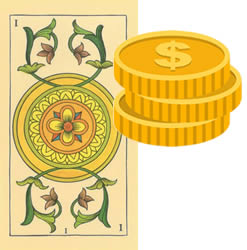 Ace of coins Tarot on Money
You're completely out of luck. The projects that you started some time ago are bringing you those economic gains that you expected. You know how to manage your finances well, even if you made investments you are also getting big increases in money.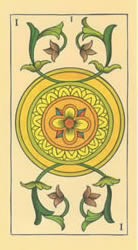 Ace of coins Reversed Tarot
If the inverted ace of coins appears in the spread of tarot cards, there are direct messages for you.
You have a lock on your heart that you don't let anyone enter and you represent a bad mood that doesn't benefit you at all. In your physical and emotional state, take care of yourself a little more than normal, since you may end up getting sick. Try to control your emotions in relation to your work; do not boast about it, since everything that is sown, sooner or later ends up reaping.