Queen Tarot Coins
Meaning of the Queen of Coins in the Tarot
What does the Queen of Pentacles tarot mean?
The Queen of Pentacles tarot shows a very familiar woman with great knowledge of financial management. It is the best way to secure your money with the queen's advice.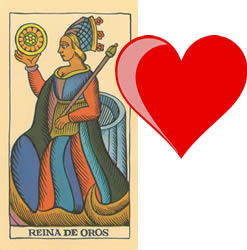 Queen of Coins Tarot in Love
The woman within the couple is a pillar so that things continue to go well. You will be in a time of full correct communication and of course very pleasant leisure.
Now if you're single despair can play a trick on you. Try not to lose control by pestering the person you like as they may lose interest in you. Let your best qualities win her over for herself.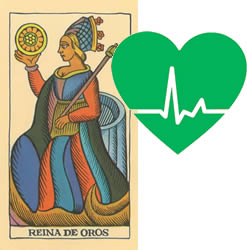 Queen of Coins Tarot on Health
In the field of health, this letter from the Queen of Pentacles tells us that you should give yourself a little more time to dedicate to your health, that is, that you take care of yourself a little more than you have up to now. you have done.
Health needs are the most important things in life and money cannot buy them; It is important that you dedicate the necessary time to your health.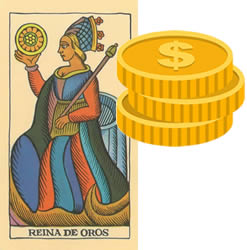 Queen of Coins Tarot on Money
A splendid moment if we talk about your work. The Queen of Pentacles tarot denotes enormous advances in your daily tasks at work. This is a clear sign that brings possible promotions or recognition for your work.
Maybe a woman a little older than you appears who will help you in every way in your work.
The same is true if you are looking for a job; a woman again slightly older than you will help you find a job.
All this means that the increase in money in you is considerable. Very happy moments in terms of your economy and you should enjoy them with pride, but always without forgetting the importance of saving.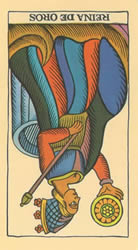 Queen of Coins Inverted Tarot
If you get the inverted queen of pennies tarot we do not bring you good news. You will be very busy at your workplace consuming a lot of time and energy.
You may have done it of your own free will or perhaps it's duties you can't leave and you've entered a hellish work loop.
This has caused your relationships with family, partner and friends to decline since you have not been able to offer them adequate time for each of them. You can't be everywhere and take care of everything all the time.