10 Tarot Cups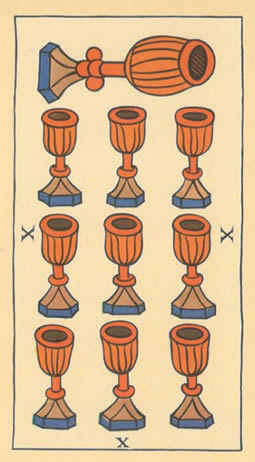 Meaning of the 10 of Cups in the Tarot
What does the 10 of Cups Tarot mean?
The 10 of Cups can be considered one of the best tarot cards, due to the fullness and bliss it offers. The main act before this is to be grateful for the blessings obtained and only then enjoy happiness and abundance.
This card can be related to several areas of your life, but the emotional one always surpasses, since it joins the desire for family, children, parties and celebration. This letter is really very familiar.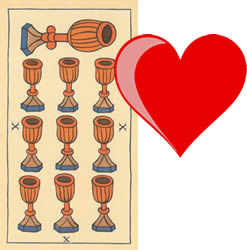 10 of Cups Tarot in Love
Within love, this letter plays a very important role as it dispels any idea of problems and dilemmas between you and your partner.
Both are in a pleasant and happy moment that has nothing to do with the stage of falling in love, on the contrary, they feel that they have met the right person, which is why they increase the degree of commitment between the two of you.
If you find yourself alone, the 10 of Cups refers to the tranquility you feel in these moments of your life and the support that comes from the family level that keeps you stable and full. of peace. It is possible that you will start a relationship that will become the most important of your life.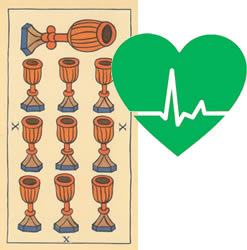 10 of Cups Tarot on Health
When the 10 of Cups is directed towards health, it means that if you are sick, you will begin to notice how healing comes to you through support and accompaniment of the people who are close to you and who love you.
This support fills you with calm and builds in your mind positive thoughts that will attract good vibrations necessary for your healing.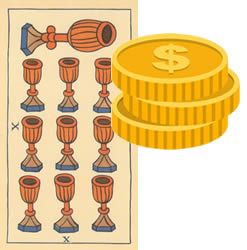 10 of Cups Tarot on Money
The economic area is so good that it is not something that really worries you, that is, what you have is enough and you enjoy it. Money flows at its own pace and you only take care of managing it well and that's it.
All your energy right now is focused on your family and on celebrating the beautiful things in life, so abundance will continue to come as long as you maintain this detachment from money >.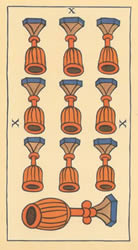 10 of Cups Inverted Tarot
The 10 of Cups in your deck draw talks about appearances. You are living a process in which everything seems to be perfect, however this perfection and the happiness it could produce is not really present due to discussions and misunderstandings inmates in your home.
There may be an imbalance due to disrespect and therefore things are not going as well as they appear to be.