Jack Tarot Cups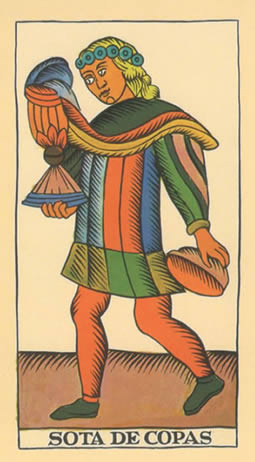 Significado de la Sota de Copas en el Tarot Marsella
What does the Page of Cups Tarot mean?
The jack of cups tarot marseille in the deck refers to that sensitive and subtle side that usually touches everything that is related to art. It means a new beginning in this area of your life that is responsible for creating and manifesting beautiful things.
This letter is an invitation to enjoy the subtle things you like, to get to know yourself and develop a passion that you had not had the time or decision to take into account.
The Page of Cups for couples renews love, inspiration and ingenuity at the moment of love. That is why when this letter appears many times you see the result of a marriage or the arrival of a baby that was sought and is received with much love.</p >
If you are single, this card indicates that you will fall in love again, that you will begin to develop a career that exploits your intuitive and dreamy side and leads you to connect with the right person for you at this stage of your life.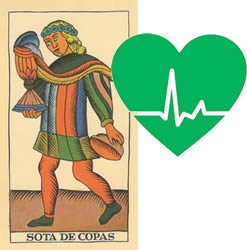 Knave of Cups Tarot on Health
If you are going through an illness, this card appears to tell you that it is necessary to unleash your soul and spirit. Carry out activities that lead you to connect with the Creator and feel the love of the external.
If, on the other hand, you are enjoying good health, the Page of Cups invites you to carry out activities that raise your consciousness and develop your spirit, such as meditation, yoga, painting, etc.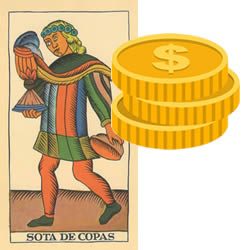 Page of Cups Tarot on Money
With this letter you start to have great intervention in finances. You carry out deals and transactions that generate a greater flow of money, you have many ideas in mind that will help you grow financially.
This is a good time to carry out all those plans you have in your mind, let yourself be guided by your intuition and start sowing because soon you will see the fruits. p>
You also have a higher level of awareness and responsibility, which helps you manage money correctly without becoming a spendthrift.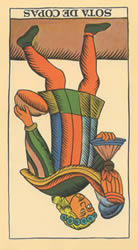 When the inverted jack of cups appears, it is to warn you that you have an excess of imagination that is leading you to act in a very immature way, bringing negative results with it that weigh on you at the moment and time after.
All the free rein you have to your imagination can lead you to fall into any kind of vices that will only end up harming you and losing the meaning of your life.