4 Tarot Cups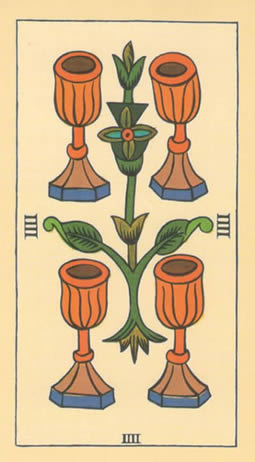 Meaning of the 4 of Cups in the Tarot
What does the 4 of Cups Tarot mean?
The 4 of Cups has a bit of an ambiguous meaning. On the one hand, it talks about an internal path that you have and you must start to find true happiness within yourself, it is possible that you find yourself submerged in a world where nothing else attracts your attention< /strong> or it makes you feel fulfilled and happy and each time you ignore them more and more.
On the other hand, this card talks about the same apathy that is causing you to ignore the opportunities that are being presented to you in life. For both situations the answer is the same, a self-study and a connection with your spirit that leads you to wake up.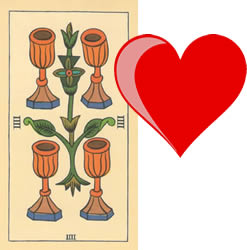 4 of Cups Tarot in Love
The 4 of Cups in the tarot speaks of a period of apathy within the relationship. You find yourself closed in on yourself and this distances you from your partner and deteriorates the relationship between the two.
This attitude can be positive for your life if you manage to manage it correctly. In a positive way, you can analyze the things you like and those you don't like and take actions to improve; but if, on the contrary, you lock yourself in more, you will end up missing the opportunity to heal and improve your relationship.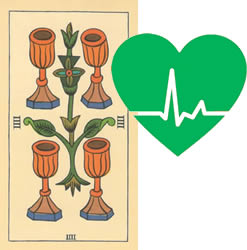 4 of Cups Tarot on Health
In the area of health, the 4 of Cups refers to denial. It is possible that you are going through situations that you do not want to accept and this will only bring problems in your life since you do not open up to the idea of looking for solutions.
If you have any symptoms or pain that is not normal for you, do not shut down. Go to the doctor and look for solutions so that you do not have health problems later.
4 of Cups Tarot on Money
Regarding money, the 4 of Cups refers to opportunities that generate profit but that you are not taking advantage of since you find yourself absorbed in your affairs and internal discussions.
This letter also speaks of the fact that in the face of all these options that give you an idea of improvement and growth, you have to think about it carefully and choose the one that generates the greatest security for you since not all of them are truly positive
Do not allow apathy to take over your life, although it may be a problem that is difficult for you to get out of, it is best to try little by little and do not let yourself fall into abandonment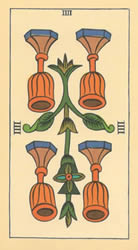 4 of Cups Reversed Tarot
Curiously, this inverted card has the same meaning as the right one, apathy and lack of interest in you and in the things that are part of your life. However, what distinguishes them is the outcome, the reversed 4 of Cups speaks of your attitude beginning to improve and you are leaving aside so much disinterest.