Horse Tarot Swords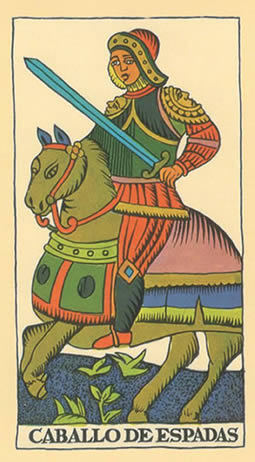 Meaning of the Knight of Swords in Tarot
What does the Knight of Swords Tarot mean?
The knight of swords is a manifestation of the aptitude and attitude that your being has developed. This card reflects a desire to want to conquer the world in a decisive way and with great enthusiasm.
The sword represents logic and reason this means that all that energy you have to act on a day-to-day basis is guided by knowledge and strategically you can obtain very good results. p>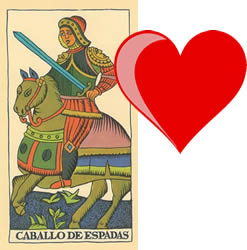 Horse of Swords Tarot in Love
When the Knight of Swords appears in the area of love, it refers to pretty good times within the couple. A degree of maturity has developed between the two and now things are communicated better, there is greater empathy, help is reciprocal and this gives the relationship a better foundation.
If you find yourself lonely, this card refers to the fact that love is coming into your life with all the strength and desire. It is recommended that you be receptive to this arrival and that you can open up and go out in search of love so that they can meet positively.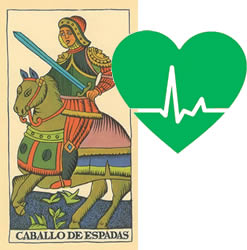 Horse of Swords Tarot in Health
The Knight of Swords represents a good stage in health. Everything is balanced and within normal values. On a mental and emotional level there is calm and good management of emotions that make you feel calm.
It is a good time to do therapy, start physical activities, do everything that keeps you active and leads you to enjoy life more because it will be especially positive for you.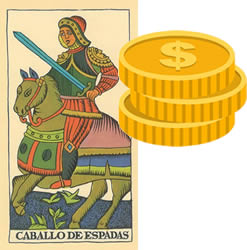 Horse of Swords Tarot in Money
This card in the area of finances is very positive because it brings abundance. If you plan to start a business the doors will be open to your needs, if you already have a job the flow of money will increase.
The relationship with your colleagues will be fruitful and there will be a reciprocity between you that will make you grow and continue to reap success. When the Knight of Swords appears in your deck, become confident that you will have fun and blessed times.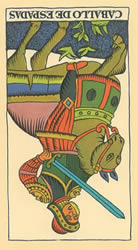 Knight of Swords Inverted Tarot
When the Knight of Swords is inverted and the energy continues with the same intensity, you have the same desire to conquer the world but there is an important difference that takes you far away from reaping successes and it is the fact that you have total blur.
Being lost and not knowing how, or in what, to direct your energies you will only have losses of time, opportunities and money. At this point you have to try to sit down and organize your whole mind to regain focus.