2 Tarot Wands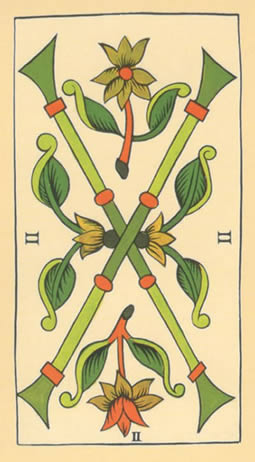 Meaning of the 2 of Wands in the Marseille Tarot
What does the 2 of Wands Tarot mean?
The 2 of Wands speaks of the capabilities and potential that a person possesses and refers to the process of putting this potential to work to achieve a large number of goals and dreams previously planned.
This card talks about making the decision to act although fear can sometimes paralyze us, when it appears in the spread of the deck it is because the time to start the change is now, we recommend you take advantage of the opportunity , since this energy comes directly from you.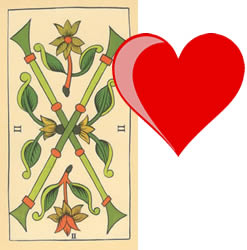 2 of Wands Tarot in Love
In the area of love, the 2 of Wands appears to affirm the knowledge you already have, you find yourself calm and at peace knowing what you want and that is to do within your relationship to make it more fruitful and go on the path of growth.
If you find yourself alone, this card says that the right person for you is already in your reality but you should start lowering your standards so you can see them. Not because you don't deserve it, but because you must accept what you have to offer and learn to receive the same. The 2 of Wands speaks to you of self-knowledge and decision.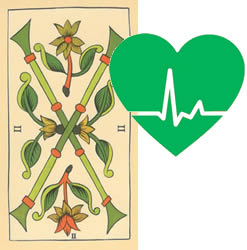 2 of Wands Tarot on Health
The 2 of Wands in the area of health announces a state of balance both in mind and body. This letter fills the person with a lot of peace of mind because he knows what he has to do and he carries it out without problems. </ P>
The 2 of Wands invites you to lead a calm lifestyle, put worries aside and continue acting in favor of stability.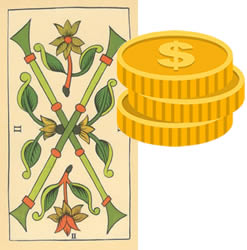 2 of Wands Tarot on Money
The 2 of Wands allows the economic area to go properly. A balance has manifested itself in your life and finances do not escape it, you have a coordination between what comes in and what comes out of money.
When this card appears in your tarot deck it is to fill you with calm and free you from anguish due to the economy. It also encourages you to continue maintaining the rhythm that you have been bringing so that your economy does not destabilize.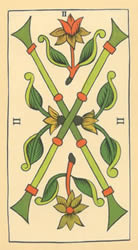 2 of Wands Inverted Tarot
When this card is reversed it is because you are facing two scenarios. One of them refers to the apathy in which you find yourself immersed that makes you not want to make plans for your life and you stay in a state of stagnation.
Another scenario is one in which you have a lot of plans and ideas for your life, however, you don't have enough strength to carry them out.