6 Tarot Wands
Meaning of 6 of Wands in Tarot
What does the 6 of Wands Tarot mean?
Known as the victory card, the 6 of Wands refers to the achievements made and even better to the recognition of them by other people. The recognition of your achievements can be both big and small, so enjoy what you did with love.
This letter also talks about the realization of your plans, the time has finally come to reap all that you have been working hard for.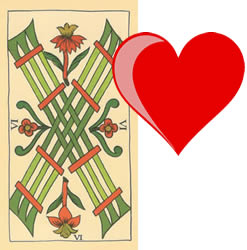 6 of Wands Tarot in Love
The 6 of Wands within the sentimental area is a very good omen. Everything that you have been wishing to have for some time within your relationship will begin to come to you, you will have the recognition of your love.
If you are single, this letter says that love has to arrive at your door and it is time to open it, it is time to enjoy what you have sought for so long.</p >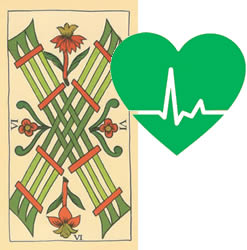 6 of Wands Tarot on Health
When the 6 of Wands appears in your deck spread, it means that it's time to stop worrying and enjoy your good health because right now it's good.
At the level of the mind you will also find a lot of calm and peace, which is why this card is known for providing rest in terms of health. If you are going through an illness, rest assured that recovery is at the door.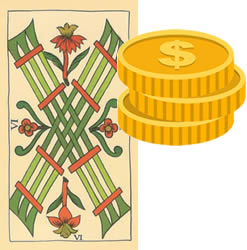 6 of Wands Tarot on Money
In the world of finance, this card speaks of economic achievement. Abundance will be on your side and money will flow smoothly. You may be praised and recognized for your good performance in your work and this will bring you greater earnings.
Focus on mastering the ego and avoid the good things you experience today from going to your head. On the other hand, it is time to take advantage of the good run of money to sow and bless others, what you give will always be rewarded in an abundant way.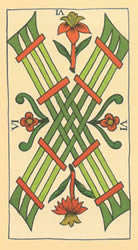 6 of Wands Inverted Tarot
The reversed 6 of Wands is a direct arrow to your self-esteem problems. It refers to remembering that if you have not achieved the things you wanted, it is because you do not trust your own potential.
When this card appears it is because you are full of doubts and fear, you do not make decisions that you should make out of fear and this leads to stagnation. Find a way to help yourself and trust in everything you can do to achieve success.