10 Tarot Coins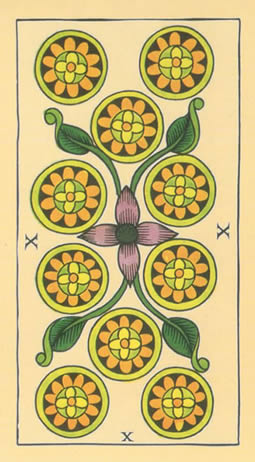 Meaning of the 10 of Coins in the Tarot
What does the 10 of Coins tarot mean?
The result of the 10 of gold tarot in the spread of cards is closely related to security both in the economy and for the part >psychological. The security that you demonstrate is linked to your way of being; the way you get along with your family and friends. It really is a part of you.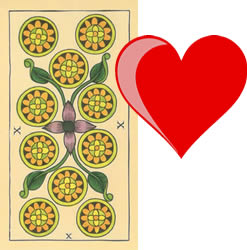 10 of Coins Tarot in Love
In the field of love, the 10 of coins tarot shows the security in your relationship. This leads to both formalizing a marriage, a son, etc. everything in the future.
These moments you will be enjoying a high degree of peace; thanks in large part to that confidence you show. There is a conversation with your partner and both solve the problems together, without having discussions in between; always looking out for the good for both of us.
If you are single, the love of your life may arrive soon. And he will also be a solvent person in the economic section.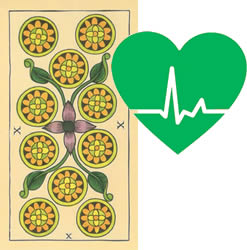 10 of Coins on Health Tarot
The 10 of gold tarot card denotes unbeatable optimism in your daily health. You are full of vitality now and for future weeks and future months. You have an enviable physique right now.
If you are in a moment with ailments or suffering from an illness; you can be completely calm since you will progress favorably without too many worries. However, never stop taking care of yourself.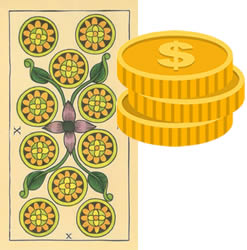 10 of Coins on Money Tarot
Now, what about the 10 of gold tarot with money? well it is an impressive letter. If you are going to start a company, this letter says that success will come sooner or later. Everything related to money is full of positivity.
There is so much positivity that luck will also be on your side in lotteries and games of chance. Play without fear, but save and have a great time.
It should be noted that the one who has the most is not richer, but the one who needs the least. What I mean by this is that you be very clear about what your minimum achievables are so that you are happy and learn to manage it well.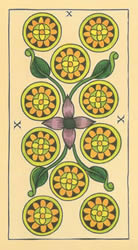 10 of Coins Inverted Tarot
Well, when we get the 10 of golds tarot it means that there will be difficulties and impediments to achieve everything mentioned above. Such as the wedding or marriage; having children, etc. Everything has been made weaker somehow. Serious financial difficulties are also looming.