9 Tarot Coins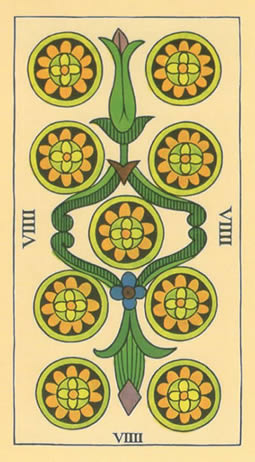 Meaning of the 9 of Coins in the Tarot
What does the 9 of Coins tarot mean?
You are in luck if you get the 9 of golds tarot in your card spread. It symbolizes an economic increase thanks to the tremendous effort you have been making.
If you are going through a time of serious difficulties, you can take it easy, because this time will soon end. Emotionally we must point out that you are not complete, and perhaps you are still waiting for the arrival of your better half.
9 of Coins Tarot in Love
Peace and tranquility will be part of your life thanks to the power of the 9 of gold tarot cards. This power means that with your partner you will move on to a new phase: one that is more enriching for both parties; more enjoyment, more respect, more enjoyment, in short more love.
If you get the 9 of golds tarot when you are single; I tell you, friend, that very soon a person will arrive who will be your better half for life. It will be something so intense that you have never experienced it before. A new, true, clean and pure love, full of complete happiness.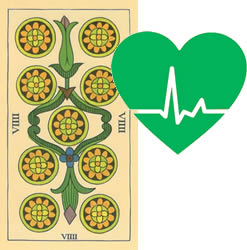 9 of Coins Tarot on Health
This card is truly spectacular. In your health you will feel like a complete person, full of energy, with self-esteem and self-confidence out of the ordinary; an impressive and spectacular feeling to experience. If, on the contrary, you are going through a disease; The results of the tests carried out will arrive, and that they will be good and favorable for you.
In order not to lose this awesome status; remember that it depends on you more than you think. That is why you should keep an open mind and full of positivity. That will allow you to maintain that extreme level of health; and of course all this is displayed both inside and outside.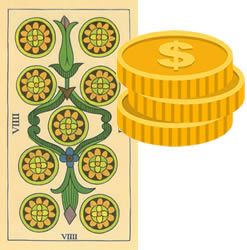 9 of Coins on Money Tarot
And we continue with this card: the 9 of golds tarot; that is leaving us amazed. You will have abundance of money. Proof of this is that the money in your wallet, in your bank accounts, in your investments, etc. everything is with green up arrows showing these rises.
These increases have not come alone. Everything has been thanks to your effort, patience and dedication; real thing to admire. You are so financially well off that you can afford to help other people in greater need. Do it without thinking.
At work you have a period of maximum efficiency; something that your peers recognize and admire. You are full of achievements and breaking statistics. In other cases we can talk about a salary increase, a new job with greater responsibility and higher income.
If you've been thinking about changing jobs; Do not doubt that it is the perfect moment to do it.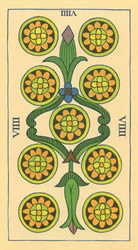 9 of Coins Inverted Tarot
Everything good that the 9 of golds tarot has, is transformed when it comes out inverted in the spread of cards. Like the gold cards, we are talking mostly about financial material; which you are right now going through financial difficulties.
And since we are in the same case, this time of difficulties is the result of your work and effort; which means that it was not correct; especially your decision making. It is time to analyze and adjust.