Jack Tarot Coins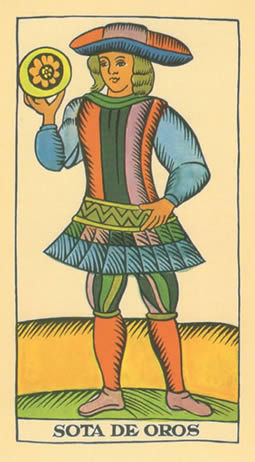 Meaning of the Page of Coins in the Tarot
What does the Page of Coins Tarot mean?
What happens if you get a 10 on a math test? You guessed it, you passed perfectly with no errors. The Page of coins tarot shows that intelligence and maturity that you have in your way of being; someone conscious who does not stop self-analyzing to improve.
Very good times for study and the economy.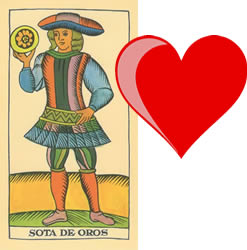 Page of Coins Love Tarot
On the love plane, the Page of coins tarot shows us the consolidation of new couples who have just started dating. This is a classic, pure love relationship; whose worst fear is falling into a routine and that flame goes out a bit. But nothing far from reality; there are many tricks and ways to avoid falling into a routine and keep that flame going as strong as ever, if not more.
Among these tricks is of course good communication, always looking out for the mutual good.
When you're single, that love may finally come. In this case, it would be a person with desire, energy, entrepreneurship, perhaps too much... which means that sometimes the relationship could be too serious and perhaps somewhat boring.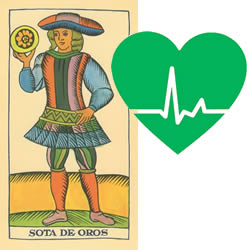 Page of Coins Health Tarot
The Page of coins tarot card shows that current health problems come from psychological states suffered previously.
It's kind of hard to explain. Your health situation is given by emotional issues; and it is possible that a doctor cannot find it: for this reason it is better that a psychologist help you.
But despite all this, the Page of coins tarot tells us that we have the energy and strength to be healthy if we fight for it.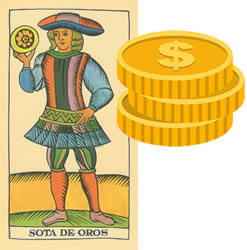 Page of Coins Tarot on Money
The Page of coins tarot tells you that you are doing a good job. The fruits will arrive in the future; so it encourages you not to give up and keep working. Perhaps that job is often repetitive and boring; so you must be well focused to continue at the top and success will eventually come.
If you were considering changing jobs; think about it well, put the pros and cons on the table. A letter that also warns about some topics which you should increase your knowledge.
If you are looking for a job; you will find it shortly.
Going back to the topic of changing jobs; The time has come for you to value yourself. If you think you deserve a better salary because you bring great value to your work; ask for it; and in case you are rejected and badly treated; maybe it's time to go to another job.
As for the money, it will come, but only in cases where you have worked a lot.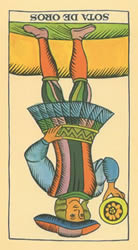 Reversed Page of Coins Tarot
The reversed jack of coins tarot is giving us signs that we have serious difficulties to achieve our dreams; it is possible that we are in a moment of pause, or even that we have given up and we are thinking about other totally different dreams.
We may not have had the best planning possible. Although there is also the possibility that we have become a lazy and lazy person. A person who is always tired and content with what he has.