8 Tarot Coins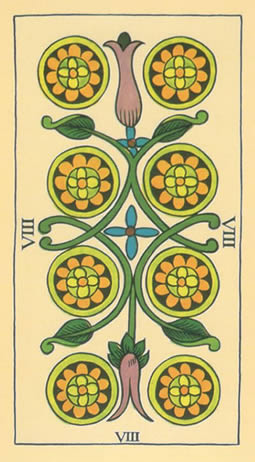 Meaning of the 8 of Coins in the Tarot
What does the 8 of coins Tarot mean?
The 8 of coins tarot is a card full of creativity. With it you will be able to demonstrate your greatest abilities with an ambition that is out of the ordinary to date.
Practice makes perfect. Also, what started as a hobby, you would never imagine would end up becoming a job.
The 8 of coins tarot card tells you to be prudent to achieve those aforementioned successes.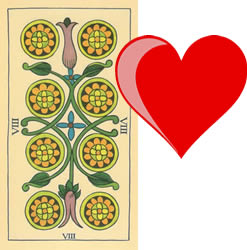 8 of Coins Tarot on Love
On a love level, it is possible that your work (or that of your partner) is disturbing the emotional bond you have between the two of you.
It is important to know what is really important. Give your partner the importance they deserve; Measure your work days and tasks well so that this is not an impediment to seeing your loved one.
We must not fail to mention that even if you work too hard, you are always ready to improve those aspects that your partner will undoubtedly take into account and value.
Now if you are single it is obvious that this letter tells you that you are too busy with your work so that you can maintain a serious and firm relationship; since you would lose all respect for the other person.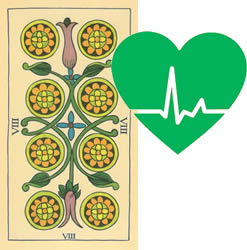 8 of Coins Tarot on Health
Your work has consumed you. This causes you to spend too much energy, inflate yourself with stress and always carry high concerns. Your body knows this and you must realize that this is important for your health.
Give yourself some time to prioritize and improve those aspects. Sleep 8 hours, rest your eyes, drink water and fruit, etc. In short, take care of yourself a little.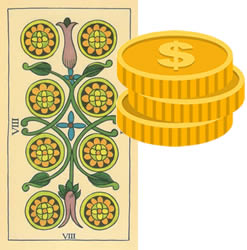 8 of Coins Tarot on Money
Regarding what money refers to with the 8 of golds tarot finally you will receive that help that you have been waiting for a long time. It is very clear that this help will come to you on pearls and increase your economy in general.
In any case, keep a close eye on unnecessary spending. Spend where you know your money will not be at risk of loss.
Your financial situation has improved of course; but we must point out that it may also have been because of your patience working hard for a long time without stopping. But no luck; in this case it is more than well worked luck.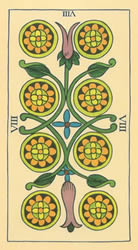 8 of Coins Inverted Tarot
If you get the 8 of gold inverted tarot, you are going to sow what you reaped from so much work; but that has been harming you.
Perfection in this case has worked against you; This has made things quite complicated; and not only in the economic section, but also emotionally.
So what can we do? Identify what things are hurting you. Without a doubt, the 8 of coins tarot is a warning for you to learn to master those things that got a little out of hand.