Horse Tarot Wands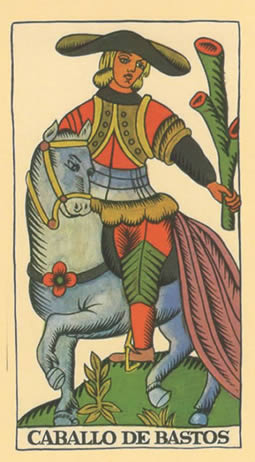 Meaning of the Knight of Wands in the Marseille Tarot
What does the Knight of Wands Tarot mean?
The Knight of Wands is a card that follows the thread of the previous ones in terms of energy and determination. Talk about how determined you are to put your plans and desires into action and the positive things this brings for you.
You have a free and adventurous spirit that leads you to nourish yourself with positive things and that is why you want to conquer the world, and you have the strength to do so. It is important that you have the wisdom to plan everything very well and really achieve success.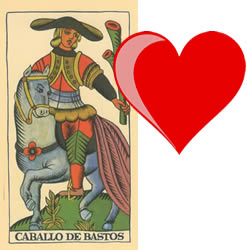 Horse of Wands Tarot in Love
The horse of clubs indicates that it is a good stage for couples because both are willing to make the relationship better every day, this leads them to have better conversations and reach agreements with very good results.
If you find yourself alone, this card indicates that a young person will come into your life with whom you may have a wild and passionate relationship. However, you have to speak clearly and really know if it will become stable or not.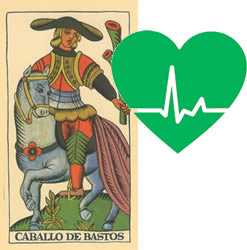 Horse of Wands Tarot in Health
With the horse of clubs you can be calm when thinking about your health because it indicates moments of calm, stable health and a cessation of ailments. However, you have to watch out for bumps and sprained ankles, which may be the only thing bothering you.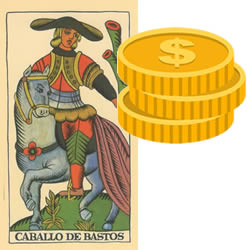 Horse of Wands Tarot on Money
The good run of money continues with the horse of clubs, it is a good time to create plans that produce more money and it will begin to come to you from places you do not expect, both in small I eat in large quantities, thanks for everything.
Always remember to save and pay attention to the expenses you make. With a cool head create an action plan that will help you in times of crisis and take advantage of devising a plus that increases productivity in your business.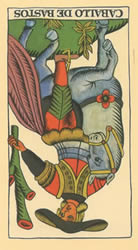 Knight of Wands Inverted Tarot
The inverted knight of wands appears to bring to light a dissatisfaction and annoyance that you have in your mind due to the problems that are constantly arising and prevent you from moving forward.
On the one hand, all these dense energies do is spoil things more because they don't allow you to stop and think coldly and better calculate each step you have to take. On the other hand, they also exhaust you, making you feel tired and without the strength to keep trying.
Don't lose hope, live all the emotions that are coming to light and continue forward because soon the chains will be broken.